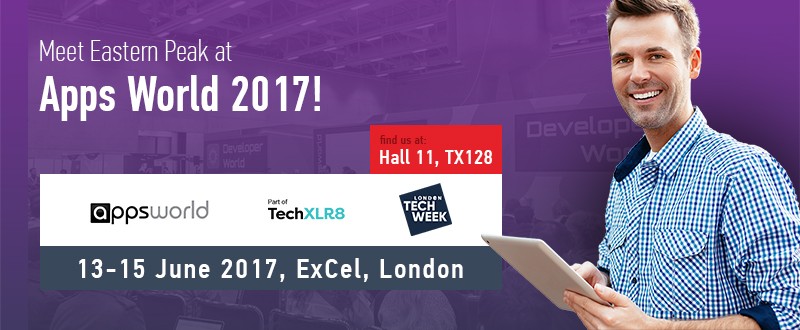 https://easternpeak.com/wp-content/uploads/2017/04/2017-250x103.jpg 250w, https://easternpeak.com/wp-content/uploads/2017/04/2017-768x317.jpg 768w, https://easternpeak.com/wp-content/uploads/2017/04/2017-700x289.jpg 700w, https://easternpeak.com/wp-content/uploads/2017/04/2017-120x50.jpg 120w, https://easternpeak.com/wp-content/uploads/2017/04/2017-300x124.jpg 300w" sizes="(max-width: 800px) 100vw, 800px" />
Have a totally free schedule at Apps World 2017 in London?
Neither do we, but we'd still love to arrange a meeting!
Here are just a few reasons why we should meet:
Share knowledge and ideas – whether it's asking for feedback or discussing the next great thing.
Exchange referrals and opportunities.
Discuss prospective collaboration and the way our businesses can benefit.
Spend a good time over a cup of delicious coffee with like-minded people.
What is Eastern Peak?
Eastern Peak is a friendly team of developers and designers who loves working with early stage startups to get an initial product off the ground fast and on budget.
We've gathered the Eastern Europe's most experienced software developers, designers and project managers along with top Israeli product experts under one roof to deliver reliable software solutions to our clients.
Our custom software development company is focused on helping startups and mid-size businesses reach their full potential by building great websites and intuitive mobile apps.
Meet the team:

Alexey Chalimov, the CEO at Eastern Peak Software, entrepreneur, technology enthusiast, who enjoys bringing new technology products to the market.
As a CEO at Eastern Peak Software, a professional software consulting and development company, Alexey ensures top quality and cost-effective services to clients from all over the world.
Alexey is also a founder and technology evangelist at several technology companies.
Previously, as a CEO of the Gett (GetTaxi) technology company, Alexey was in charge of developing the revolutionary Gett service from ground up and deploying the operation across the globe from London to Moscow and Tel Aviv.
Graduated with an MBA (class of 2009) from the Wharton School, the University of Pennsylvania, double majoring in Finance and Entrepreneurial Management.

Alexandra Titova, Sales and Marketing manager
Bridging both marketing and technology, Alexandra directs the planning, design, production and management of websites and mobile apps of different scales, duration and industries.

Denis Podorozhny, Business Development
Denis is a business development manager with over 6 years business development experience at all levels. Denis possesses excellent software development and IT industry knowledge, and internal/external communications. He constantly provides our partners with thoughtful consultations and support during the collaboration process.
The post Let's meet at Apps World 2017 in London! appeared first on Eastern Peak.
Read the original blog entry...